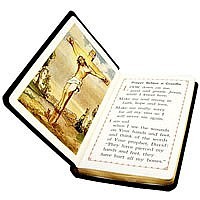 Salvation means to deliver to liberate, to rescue, to help, to give victory, to bring healing and wholeness.
The concept of redemption is also central to the meaning of salvation. To redeem someone is to recover him from the hands of aliens. In the Christian sense, redemption is secured by the price of Christ's precious blood. It is through this ransom that the Christian experiences deliverance from the world, satan, sin, self, and death.
"Forasmuch then as the children are partakers of flesh and blood, He himself likewise took part of the same; that through death He might destroy the power of death, that is the devil." Hebrews 2:14
SALVATION IS GOOD NEWS
The Ministry of Jesus Christ began in (Luke 4:17-21): "And the book of the prophet Isaiah was handed to Him (Jesus). And He opened the book, and found the place where it was written, 'The Spirit of the Lord is upon Me, Because He anointed Me to preach the gospel to the poor. He has sent Me to proclaim release to the captives, and recovery of sight to the blind, To set free those who are downtrodden, to proclaim the favorable year of the Lord."
This was the reason that Christ came to earth. His purpose and ministry were to willingly sacrifice His life to suffer the excruciating pain of the cross to give us salvation. However, this should be good news to those who accept Him as Savior.
"That if you confess with your mouth the Lord Jesus and believe in your heart that God has raised Him from the dead, you will be saved. For with the heart one believes unto righteousness, and with the mouth confession is made unto salvation."(Romans 10:9, 10)
Here is an outline of the meaning of Salvation:
1.Range of meaning in Greek - physical safety, cure or healing from illness, rescue, deliverance, liberation, protection, keep alive, keep in good health, preserve well-being, benefit, develop wholeness or peace, make secure, bring victory
a. to make safe from danger, peril, judgment
b. to make safe for, to, unto health, benefit, victory
2. Representative usages
Matt. 1:21 - "you shall call His name Jesus...He will save His people from their sins"
John 3:17 - "that the world should be saved through Him"
Acts 4:12 - "salvation in no one else; no other name by which we must be saved"
Rom. 1:16 - "gospel...the power of God for salvation to everyone who believers"
Rom. 5:10 - "we shall be saved by His life"
Rom. 10:9 - "confess Jesus as Lord...you shall be saved..."
Eph. 2:8,9 - "by grace you have been saved through faith..."
I Thess. 5:9 - "God has destined us for obtaining salvation through our Lord Jesus Christ"
I Tim. 1:15 - "Christ Jesus came into the world to save sinners"
Titus 1:4 - "God the Father and Christ Jesus our Savior"
Titus 2:11 – "grace of God appeared, bringing salvation to all men"
RIGHTEOUSNESS THROUGH SALVATION
Those who you reject Christ as Savior of their lives reject a free gift that brings eternal life and blessings who all who believe in Him. It is by grace through faith in Jesus Christ that we are saved, so that God the Father may view us as having the righteousness of Christ which is imputed unto us at Our sins were imputed to Christ, and He went to the cross and died as our substitute (Rom. 5:6-8).
All of our sins were charged (imputed) to Christ, and His righteous standing with the Father has been imputed (charged) to us. he righteousness of God is imputed to all who believe on Christ so that they may stand before Him in all the perfection of Christ.
This means that every saved sinner has been "made" the righteousness of God (1 Cor. 1:30; 2 Cor. 5:21; Rom. 5:21-23). This is not through works. It is through the grade of God.
God sees believers as He sees His own Son" by our identification with Him by the baptism of the Holy Spirit. We are members of His body (1 Cor. 12:13; Jn. 15:1, 5). God sees us "in Christ" and justifies us forever. He sees us as the righteousness of Christ and He loves us as much as He loves Christ (Jn. 17:23). He accepts us as He accepts Jesus Christ (Eph. 1:6; 1 Pet. 2:5). He sees us the same way He sees His own Son (2 Cor. 5:21; Rom. 3:22; 1 Cor. 1:30). Christ is the righteousness of God, and those who believe on Him are made the righteousness of God by being "in Christ." We are complete in Christ (Col. 2:10); therefore, God the Father sees us perfected forever (Heb. 10:10, 14).
This justification is the believer's eternal standing before God. In our daily life we are far from the perfect legal standing with God and must "grow in grace and knowledge of Christ."
Conclusion: Eternal life is a free gift (Romans 5:15; 6:23), which anyone may have simply by acknowledging their guilt of sin and believing on the name of Jesus Christ for forgiveness .
Fowler (2004). Christ in you Ministries, Falbrook, CA
Wil Pounds (2006).Abide in Christ Ministries
THE SCOPE OF SALVATION
From the perspective of time, salvation may be said to possess three successive stages:
Justification. This is a legal term and has reference to that past and heavenly activity of God wherby He delivers the believer from all condemnation through the substitutionary death of Jesus Christ.
"Who gave Himself for our sins, that He might deliver us from this present evil world, according to the will of God and our Father." Galatians 1:14
Sanctification means to make holy, to consecrate, to separate from the world, and to be set apart from sin so that we may have intimate fellowship with God and serve Him gladly.
" And the very God of peace sanctify you wholly; and I pray God your whole spirit and soul and body be preserved blameless unto the coming of our Lord Jesus Christ." 1 Thessalonians 5:23
Glorification. This is a term of radiant splendor and has reference to the eternal activity of God whereby He delivers the believer from all that is in oposition to His perfect will.
"For whom He did foreknow, He also did predistinate to be conformed to the image of His Son, that He might be the firstborn amongst many brethren. Moreover whom He did predestinate, them He also called; and whom He called, them He also justified, and whom He justified, them He also glorified." Romans 8: 29, 30
God always takes the first steps in salvation. First, He prepares the plan, and then He invities men to participate in His provisions of grace.
If you are not saved, this is your call to salvation:
1. Admit to God that you are a sinner:
"For all have sinned, and come short of the glory of God" Romans 3:23
2. Believe in Jesus Christ as Savior of the world and your Savior.
" For God so loved the world, that He gave His only begotten Son, that whosoever believeth in Him should not perish, but have everlasting life." John 3:16
3. Confess your sins to Jesus Christ and ask for His forgiveness.
"If we confess our sins, He is faithful and just to forgive us our sins, and to cleanse us from all unrighteousness" 1 John 1:9
Repeat this prayer for Salvation
Father God, I know that I am a sinner and need your forgiveness. I believe that only you can forgive my sins. I ask you to come into my heart, forgive my sins, and be the ruler of my life. Thank you for saving me from my sins. I now know that only you are my source of eternal life and entrance to heaven. I enter into this covenant with you! In the name of your Son, Jesus Christ. Amen
Now pray and ask God for a Bible believing Church so that you may grow and develop in the love of God. God bless you!